Pulp related material should go on the Pulp press page instead.
To do...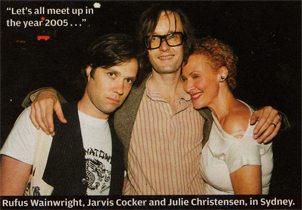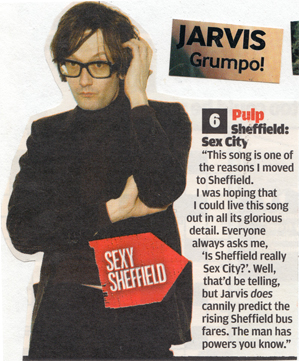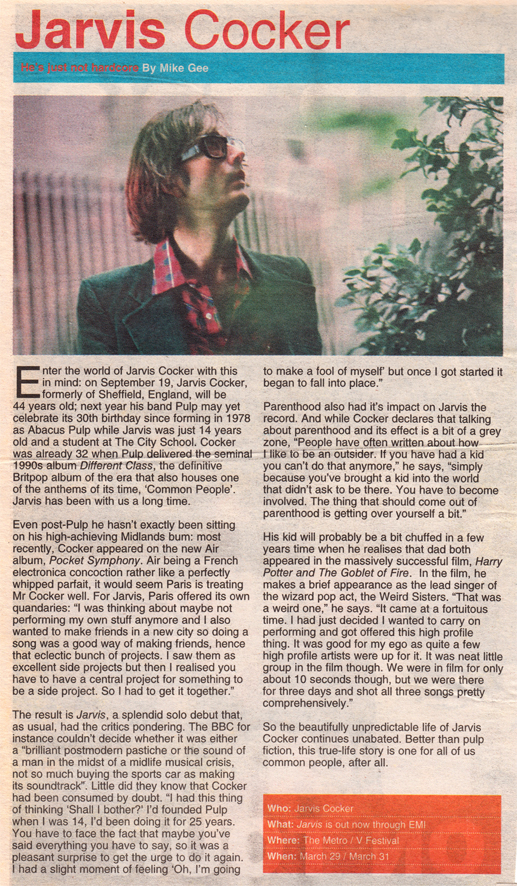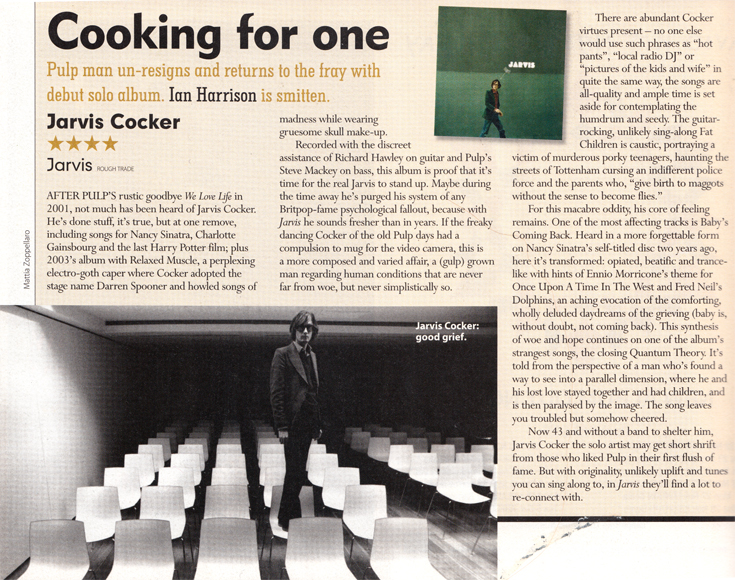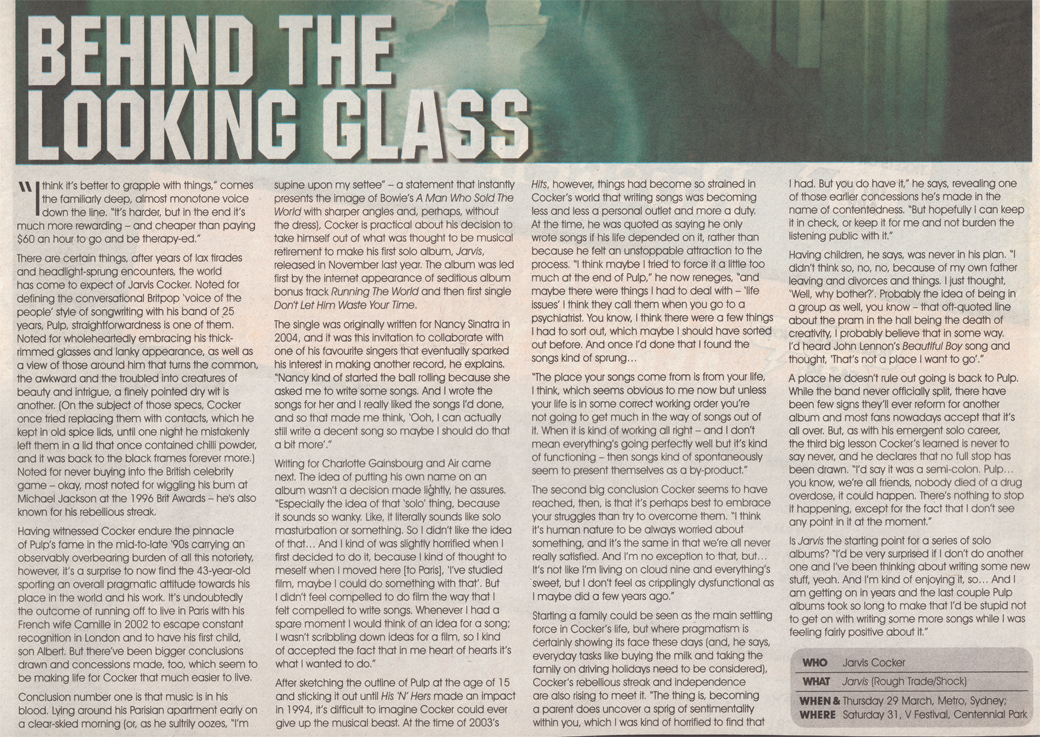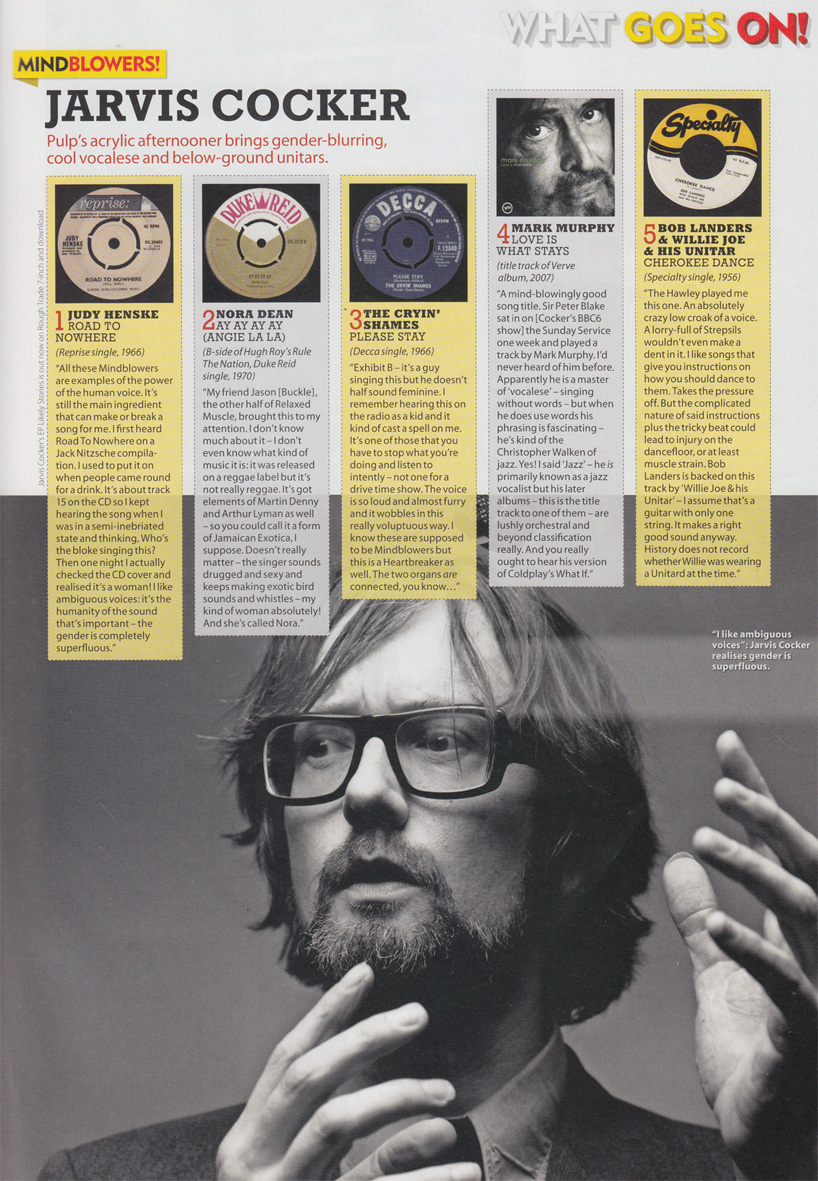 - Mojo, Sept, 2016
The Courier - Mail, Brisbane - 18 June 2009
Rock 'n' roll suits the man infamous for Britpop, writes Sam Kelton 'If you went down to a biker bar and put my record on they would probably think it's really poofy music
JARVIS Cocker has finally come around to rock music. For years Cocker, pictured, has celebrated pop and punk music both as a solo artist and frontman for seminal '90s Britpop band Pulp.
On his latest effort, Further Complications, a title to which Cocker confesses "there's always something", the well- spoken songsmith has added a rock 'n' roll swagger, making for a louder platform in which to inject his heavy narrative.
But the man infamous for his unique Britpop stylings says the change stemmed from his younger years where there were two schools of musical thought.
"You had to make a choice," begins Cocker. "You were either for the punk revolution or you were against it. I decided I was for it and rejected a lot of rock music.
"So it's only been in the last couple of years with the guys in the band playing this stuff that I thought -- you know some of it's all right." Some of it is all right, particularly on Further Complications. Cocker describes making the record as a test. "I wanted to see if I could make a record in that area that still felt valid to me and genuine and not rubbishy and pastiche," he says.
Judging by the critics' reaction, particularly in the UK, the test has paid off. But the chatty frontman renowned for his wit is quick to quash reports that Further Complications is as "rock" an album as the media is painting it. "I'm sure if you went down to a biker bar . . . and put my record on they would probably think it's really poofy music -- so it's not that rock," he laughs.
"I haven't had any tattoos done."
But it's not only the sound that has a touch of rock 'n' roll; it's the lyrics too. Well, that is until Cocker sets the record straight about first single Angela. Lyrics like "near 23 -- 450 an hour and a complimentary shower", are apparently not about a prostitute. The misinterpretation is "an Australian thing". "One of the guitarists in my band, Martin Craft, he's Australian and he asked me that, but no," Cocker says.
"I think because it (the song) says 450 an hour -- I mean 4.50, but you could imagine 450 which could be not a bad wage for a prostitute and I suppose the shower, well that's thrown in after your business.
"The song's genesis was in Australia, actually, when we were in Melbourne," Cocker says. "There was like a pretend 1950s diner near the hotel where I used to go for my breakfast. There was a girl who worked in there. I don't think she was called Angela but I witnessed her dealing with an awkward customer one day and there was an interesting spirit about her. I was kind of attracted to her I guess."
But it's not all cute waitresses and rock tunes on Further Complications. Cocker who has two boys -- Otto, 13 and Albert, 6 -- says his children have influenced him a great deal and there's nothing more rock 'n' roll than losing your son in a railway station, hence the album's title.
"Albert in a way inspires a lot of my songs. There's a song on the album called Hold Still which is about a time I lost him in a railway station," Cocker says.
"They both like rock music -- I mean you put on a kids record like Sesame Street and they think it's rubbish and (would) rather listen to The White Stripes or something."
With his kids enjoying current rock and pop music it's only a matter of time before they stumble upon their dad's brilliant past with Pulp. When asked about the reunions of great Britpop acts like Blur (who will play Glastonbury later this year) and the possibility of the singer fronting Pulp again, Cocker is honest and quite happy to discuss whether it is "necessary". "It all depends on how much money is on the table," he laughs. "I mean, I don't know. There aren't any plans but I'm probably going to see Blur at Glastonbury. I'd like to see them because obviously I saw them a lot back in the day. So that would be interesting . . . to see whether it is just a nostalgia thing or if it seems valid and maybe that will have some effect on me and my opinion as to whether it will work for Pulp."
With a healthy solo career, a guest spot producing on BBC's morning radio and plans to host his own show, Cocker seems quite content with his world at the moment.
Further Complications out through Remote Control.
by Sam Kelton