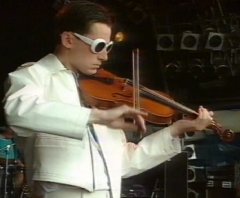 Name: Russell Senior
Born: Sheffield (18th May 1961)
Age: 62
Joined Pulp: September 1983
Left Pulp: January 1997
Instruments: Guitar, violin
Bands: Isengard, Bath Bankers, Nightmares, Pulp, Venini
Other occupations: Dealer in antique glassware
Taken from Vice mag...not sure which one but we feels it accurately describes Mr Senior...
Be Good At Everything
Born in Sheffield, Russell was the kind of guy at university who took activities really seriously. He started societies, went to protests, performed in student films and even had his own band, The Nightmares. It is with this band that Russell first shared a stage with Jarvis Cocker's Pulp, an act he had previously only reviewed in his fanzine. Yes, he had one of those too.
When Pulp changed directions in 1983, Russell, with his boundless creative energy and enthusiasm, was an easy choice for new band member. Coming in as a guitarist who sometimes played violin, he soon became a core figure of the band who often took vocal duties. Russell stayed with Pulp from their experimental independent years right through to their commercial success in the 1990's, which means he plays on pretty much every Pulp song you've ever liked.
Senior left Pulp in 1997 after losing interest in the band's direction. He went on to form a number of bands, none of which were much chop. He has found success however in the field of production, working with bands such as The Long Blondes and Art Brut.