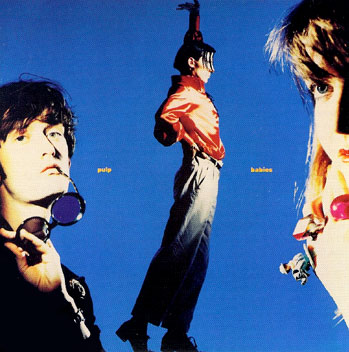 Click here to see more of the artwork
Release date: 5 October 1992
Label: Gift
Formats: CD, 12"
Catalogue numbers: GIF3CD, GIF3
Babies is a song and single by British rock group Pulp. It was released as a single for Gift Records in 1992, and was later remixed for The Sisters EP in 1994. The remixed version featured on the His 'n' Hers album and the original single mix on the Intro compilation. The song failed to chart in 1992, But became a Top 20 hit when re-released in 1994, peaking at #19 on the UK Singles Chart.
* Does not appear on the 12" version
Babies:
Yes it happened years ago on some damp, acrylic afternoon. I know you got your own back years later (that's another story) but it wasn't such a big deal anyway - in those days you packed people rather than divorced them. I liked it that way and still do, but then again I'm imma.

Styloroc (Nites Of Suburbia):
Happening in a cul-de-sac near you.

Sheffield: Sex City:
The morning after My Legendary Girlfriend. Trying to get things done but ending up on a tour round the fleshpots of Sheffield in a T-reg Chevette. Wybourn, Brincliffe, Intake - All these places really exist and maybe these adventures still happen there - I wouldn't know; I don't live there anymore.
Record Collector interview, 1994:
Island records were interested, and the next single, "Babies", was recorded in the Fallout Shelter, underneath Island's Chiswick head office. "Styloroc" was taken from demos we'd done earlier for Island. I tried to sing along with it, but it sounded like Whitesnake, so I recycled some lyrics from an old song that never got recorded, "Nights Of Suburbia" and recited them over the top of this stylophone music.

"Sheffield: Sex City" was a bit off-the-cuff - the Sheffield place names at the beginning weren't planned. One of those little moments of magic! I started writing more about Sheffield once I'd moved away. There was an instrumental version on the CD, a bit of atmospheric, moody music - it'd be good to make love to, because it's quite long. It's not a good idea to make love to records with words because it seems someone's in the room, making a comment on what you're doing. I must say I've never had sex to it myself - I don't have sex to my own records. But I don't mind other people doing it, in fact I receive many letters from people who do.