Date: Saturday, 16th August 1980
Event: Bouquet of Steel festival
Venue: The Leadmill
Location: Sheffield
Pulp played second from bottom of the bill. The other bands were:
Artery (headlining), The Flying Alfonso Brothers, Scarborough Antelopes, Repulsive Alien, Difficult Decision, The Naughtiest Girl Was a Monitor, Tremmers, Corridor, Station 4
(Some sources also list 'Vector 7-7', but they appear on neither the running order nor the poster, and presumably didn't play.)
Russell Senior was present and wrote a review for his Bath Banker fanzine (see below).
Included:
(I'm Not Your) Stepping Stone (Monkees cover)
Wild Thing (Troggs cover)
Teenage Kicks riff on ½ acoustic guitars but different words. They claim to have written "Stepping Stone" - it's the definative version! "Subtlety time, dedicated to Elvis" sounds like "Don't Fear the Reaper" a bit. A dirge. "Message for the Marshians" with a keyboardist who hadn't learnt the other songs. Another dirge. The appearance of the front man is entertaining. A fun band. Tuning up of hopelessly out of tune semi-acc. "Happy House" riff out of tune, different words. "I won't say that this is the penultimate song because that's pretentious. "This is for dancing but I don't suppose anybody's going to dance. Sounds like "Christine" and is a disco spoof! I wonder what Kieth Strong would say. Vast cheering for encore.
There are no known recordings.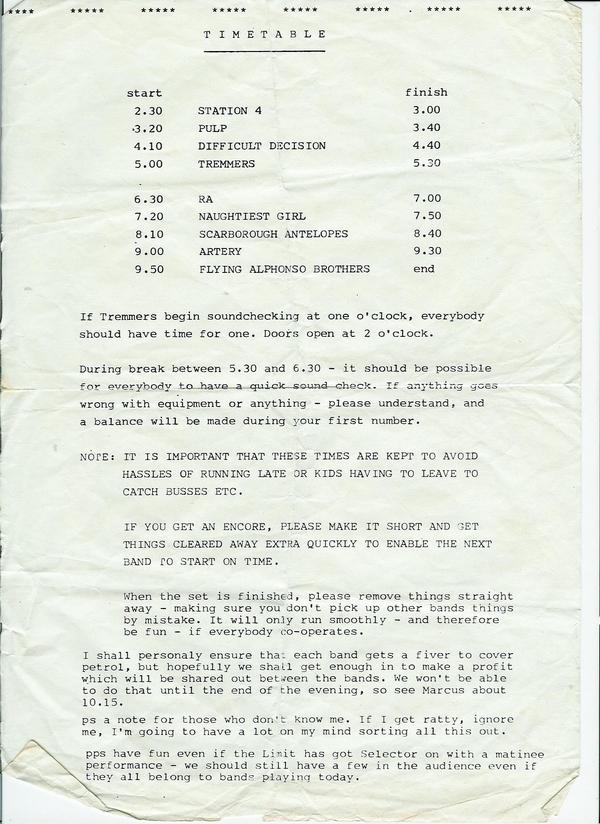 Running order courtesy of http://www.myspace.com/tsitasmusic (note different bands listed - might have changed on the day?)