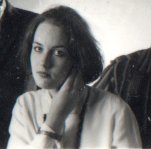 Saskia Cocker is the sister of Jarvis Cocker.
She was primarily involved with Pulp from 1982 to 1983. She sings backing vocals on the It LP and Everybody's Problem single. During 1983, she also regularly provided backing vocals during Pulp concerts.
Other facts:
She appears in the 1986 Pulp video for They Suffocate At Night.
In 2001, she featured on Richard Hawley's album Late Night Final. She provided backing vocals on the track "The Light at the End of the Tunnel".
She and Jarvis appear in the 2002 Made in Sheffield documentary film talking about early Pulp and the Sheffield music scene in the late 70s and early 80s.
In 1984 she recorded a demo with a view to pursuing a solo career. The demo also features Jarvis on guitar.
She is now married and remains living in the city of Sheffield with her husband.