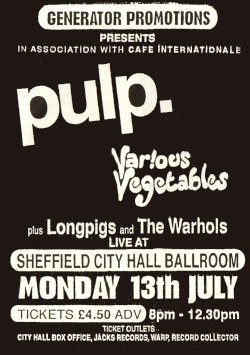 Date: Monday, 13th July 1992
Venue: City Hall Ballroom
Location: Sheffield
Tickets: £4.50 (advance)
Supported by: Various Vegetables, Longpigs, The Warhols
There are no known recordings.
Ian McGregor in Melody Maker, 1st August 1992

:
It's "Trial By Indie" night in the ever spectacular, ongoing madness that is the Sheffield Festival '92, and firstly let me apologise. I'm having a bit of difficulty sorting things out and so you may have to, sort of, read between the lines. So concentrate.

Everybody knows Pulp are ace. Each week praise is heaped on their every twitch and hip-thrust and Stylophone blurt. And most of it is true. So it only remains for me to say that next time you see them, have a look at Russel Guitarist when Jarvis isn't doing much. He's f***ing brilliant - staring out like that freak from Sparks or sending perfectly-manicured shards of guitar flying with an oh-so-precise, exaggerated flick of the wrist. Very cool. Everything speeds along giddily in Pulp's world.