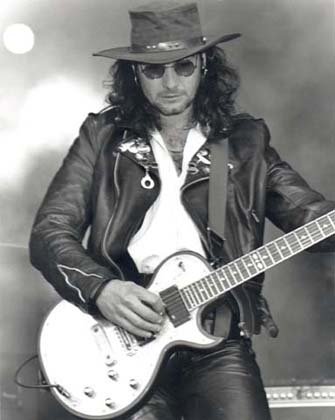 Simon Thomas Hinkler (born 13 November 1959) is a guitarist, keyboard player, songwriter and producer from Sheffield.
Simon was the keyboard player in local (legendary) Sheffield band Artery, a band that Jarvis Cocker and Pulp admire(d) greatly and went to see quite often. From this Hinkler, became good friends with Jarvis, and somewhere along the line, ended up playing with Pulp.
Simon played a number of instruments on Pulp's 1983 release 'It', namely bass and the piano, as well as lending a hand at the co-production of the record.
The band played a few shows with Simon, however, both Simon and Jarvis wanted to do other things, so this line up of the band soon disbanded. Over the next couple of years, Simon still collaborated on some of Pulp's work, as both an engineer and producer, and also as their drummer for what was to become a short and memorable tour of the south west of England.
Simon went back to playing with Artery, albeit, very briefly, before going on to work on other projects. Simon is probably "most famous" for going on to become the lead guitar player in British goth rock band, THE MISSION and played with the band from 1986 to 1990, and then again in 2008 for some of the band's "final shows" at London's Shepherd's Bush Empire as well as across Europe.
In 2005, Simon released his first solo album "Lose the Faith" - a superb set of brilliantly written, exceptionally thought-provoking works of art. Over the summer of 2011, Simon did a string of acoustic special guest slots alongside The Eden House, Anne Marie Hurst (ex-Skeletal Family/Ghost Dance) and the March Violets, all of which earned him many excellent and well-deserved reviews. Simon contributed to the lead track, 'Neversea' on the EP "Timeflows" as well as contributing to the 2013 album 'Half Life' by The Eden House.
In 2011, The Mission reformed for their '25th Anniversary' shows with Hinkler once again taking up the position of lead guitarist, alongside original members vocalist Wayne Hussey, bassist Craig Adams and new recruit, current Spear of Destiny drummer Mike Kelly. The band went out on a very successful tour of Europe and three sold out shows in Bristol, Leeds and London's Brixton Academy, the latter was filmed for DVD and Blue-Ray release ('Silver' triple DVD and CD set, available now at http://the-mission.mamstore.co.uk/).
Following this, The Mission went back out on the road in 2012, taking their anniversary shows over to South America, as well as Western Europe and the well-earned position of headlining the Pepsi-Max stage at Download Festival. In September of the same year, The Mission went out on a double-headlining sell-out UK tour with The Cult. The Mission have also been doing a series of 'secret shows' in small low-key venues under the guise of 'Blood Brothers' in support of this.
The Mission have just finished recording their brand new studio album - "The Brightest Light" - the first one with Hinkler, Hussey and Adams together since 1990 - with an anticipated release date of September 2013 to coincide with the bands North American and Canadian Autumn tour. Furthermore, The Mission will again be heading out on the road on a joint-headline UK tour with the Fields of the Nephilim in December 2013 as well as some very special Christmas shows in Germany.
When The Mission wrap up their plans for 2013, Simon will be heading back into the studio to work on his solo material with the intention of a new CD release in 2014 and then going forward to putting a band together and perfoming live shows soon after.
For more information :
•www.simonhinkler.com
•www.themissionuk.com
•www.theedenhouse.com