Date: Sunday, 26th June 1994
Event: Glastonbury Festival (NME Stage)
Location: Worthy Farm, Pilton, Somerset
BBC Radio 1 - John Peel Show
A complete audience recording also exists.
NME, 2nd July 1994:
"It's easy to get lost here," groans Jarvis Cocker. "So, if you want to get your bearings, you're at Glastonbury, we're PULP, and we're going to play some songs..."

Thus warned, we behold Jarv, the ever-ludicrous Russell Senior and the other three playing 'Razzmatazz' and 'Lip Gloss' and 'Acrylic Afternoon' with the usual meeting of plinky ineptitude and accomplished dazzle. The latter, inevitably, wins out: Jarvis wonders whether someone, somewhere, might be ensuring that life imitates art while they play the ever-so-slightly marvellous 'Do You Remember The First Time', its raffish strains drift around the field, and Gary (18) and Joanne (16) decide to go back to their tent and prove him right. Probably.
Melody Maker, 2nd July 1994:
Ah, PULP. The gently droll Jarvis Cocker sits on the edge of the stage, swings his pants and tells bad jokes, and their punch-drunk pop is as quietly glorious as ever. "Do You Remember The First Time?" is quaint, fetching, and the perfect soundtrack to sit back and watch the couple dry-humping on the grass in front of me.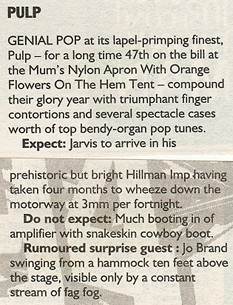 (NME, 25th June 94)