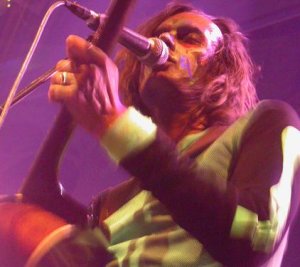 22 September 2002 - Royal Festival Hall, London
This was the first time that Relaxed Muscle songs were played. However, this wasn't a Relaxed Muscle gig. Jarvis and Richard Hawley appeared under their own names supporting Lee Hazlewood and played the three songs that later appeared on the The Heavy EP, plus some other stuff, including a cover of Hazlewood's A Cheat. It's not clear whether Relaxed Muscle was even planned at this point: it may have been regarded as just a one-off bit of fun.
May/June 2003 - Bethnal Green Working Men's Club, London
16 October 2003 - Roter Salon, Berlin
17 October 2003 - Frieze Magazine party, London
20 October 2003 - Trash, The End, London
30 October 2003 - Paradiso, Amsterdam
9 November 2003 - Festival Les Inrocks Levi's, La Boule Noire, Paris
5 to 8 April 2012 - Whitney Biennial, Whitney Museum of American Art, New York
Relaxed Muscle appeared as part of a special event titled "Who's Zoo?" created by British choreographer Michael Clark. The event featured music accompanied by dancers - both professionals and untrained volunteers - plus, special lighting and projections. The New York Times reviewed the first night and reported that Relaxed Muscle played four of the show's six songs with The Heavy, Let It Ride, Beastmaster and an encore of B-Real. Pulp's F.E.E.L.I.N.G.C.A.L.L.E.D.L.O.V.E. was also featured, although not played live.[1]