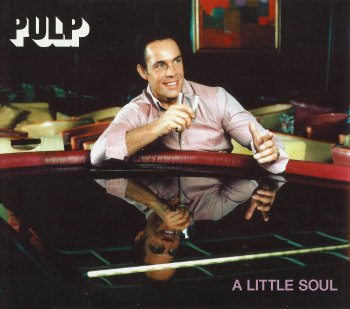 Click here to see more of the artwork
Release date: 8 June 1998
Label: Island
Formats: CD (2 versions), cassette
Chart position: 22

(UK)
According to the old official Pulp website, this single was originally scheduled for release on 1st June 1998 but then the release was put back to 8th June 1998, no explanation was given as to why.
The CD1 original mix of A Little Soul starts with 3.5 seconds of silence, including a short burst of tape noise. The end fades to silence slightly earlier than the This Is Hardcore album track.
Cocaine Socialism was originally entitled "Northern Souls" which was preferred by the band. However, the title was changed in order to avoid confusion with A Little Soul. This version of Cocaine Socialism is a tapered down version of the 'Proper Mix' that appeared on the deluxe edition of This Is Hardcore in 2006.
This version of Like A Friend is identical to the one that appears on the "Great Expectations" soundtrack and US copies of This Is Hardcore.
The alternative remix of A Little Soul is incorrectly listed as the original mix on the rear of the CD case and is referred to as the Johnny Dollar remix on the promo.
The Lafayette Velvet Revisited remix of A Little Soul was remixed by Kid Loco.
UK Singles Chart
| Week | Date | Position |
| --- | --- | --- |
| 1 | 20 June '98 | 22 |
| 2 | 27 June '98 | 55 |
Select, July 98:
Though maybe not the invincible pop blast that Pulp might need to turn around the relative commercial failure of the 'This Is Hardcore' album, 'A Little Soul' is plainly one of the less distressed songs on that album - a gorgeous mid-paced, Memphis-tinged imagined appeal to Jarv from his errant daddy. Other treats in the two-CD sales pitch include remixes by Kid Loco and former Massive Attack associate Johnny Dollar. Not to mention the new songs 'Like A Friend' (from the Great Expectations soundtrack) and 'Cocaine Socialism'. Could the latter possibly be about El Noeleo?