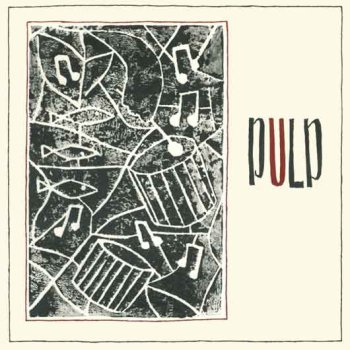 Click here to see more of the artwork
This single was recorded a couple of months after the It mini-LP was released. It was intended to spark some interest in the band after the relative commercial failure of It. Tony Perrin, the band's manager, encouraged Jarvis Cocker to write a catchy pop song: a commercial song "like 'Wham" was the way Jarvis later facetiously described it.
From early on Jarvis felt the whole idea was a mistake and only went along with it half-heartedly. The level of indifference is indicated by the fact that the vocals on Everybody's Problem were originally only intended as a guide vocal with Jarvis noticeably fluffing the words in one place. Not surprisingly, when released, the single sunk without trace. This incarnation of the band split up soon afterwards.
Today, the tracks on Everybody's Problem are among the hardest to find of all those in Pulp's back catalogue. They did appear on early reissues of It in 1994 but were quickly removed due to legal issues over who actually had rights to them. They can now only be found on a couple of obscure compilation albums released by Cherry Red. The original single is a hard-to-find collector's item.
The sleeves were cut the wrong way, the opening is on the left side.
This single was reissued in 2019 by Optic Nerve Recordings in a limited edition multicolour splatted vinyl.
From Record Collector, December 1994:
Red Rhino put up the money for another single. That's where things got bad. Tony Perrin, in his infinite wisdom, decided that Wham were a good group, and said, "You could write commercial songs like Wham, Jarvis." "Everybody's Problem" was the result. As soon as I'd written it, I'd realised I'd made a grave error. It's got a brass section. I refused to sing properly. What's on the single is a desultory guide vocal - I messed up all the words. The b side was a very genteel song with a lot of harmonies. I wrote all the songs at that time on the guitar, but Simon Hinkler helped a lot. He was good at arranging and adding instruments. "Everybody's Problem" bombed out and the future was cancelled due to a lack of interest!
Play the B side first - 'There was' for this is the essence of Pulp. A haunting gaelic quality surrounds the captured breath of the sing­er's love song.

Return to the A side for jangling percussion and jolly trumpets on a runaway display of jumbled affections.

If you like this kind of lucid sound, the album 'Pulp' will complete the picture.
Sounds, 24th September 1983

:
PULP: 'Everybody's Problem' (Red Rhino) / LUDDITES: 'Strength Of Your City EP' (Xcentric Noise) / CARTOONS: 'Gee George/Love Is The Drug' (Stiletto)

These three seem to be 'names to drop' at the moment; in fact you can expect features on at least two of them in upcoming weeks in Sounds. But removing my Editor's hat for a moment, on a purely personal level I must say that there's very little — indeed nothing — to get excited about here.

Pulp, recently rave reviewed in this paper, in reality purvey unmemorable lightweight fey drivel. I'll bet they're fresh-faced young boys, cloned from the wide-eyed and innocent likes of the Lotus Eaters. Their skulls deserve to be crushed like eggshells.