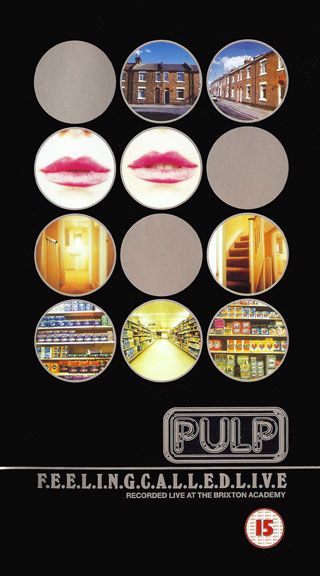 Release date: 28 October 1996
Label: Polygram Video International / Island
Length: 103 minutes
Format: VHS (PAL)
Catalogue number: 638 412-3
The following songs were recorded live at Brixton Academy (21 December 1995):
The tour diary was filmed on Pulp's 1995-6 tour of Europe and Japan.
The tour diary parts are narrated by Robert Hulse.
Also released on the now obsolete laserdisc format in Japan (catalogue number POLS1020).
Highlights from the concert subsequently aired on ITV during August 1998. The 43 minute programme, 'Pulp: A Feeling Called Live', did not feature any of the tour diary segments or voiceovers. Seven songs were transmitted:
Select, December '96:
Most warts-and-all concert documentaries make for shit viewing. See too much of your favourite star farting and swigging Tizer and the mystique is lost, too little and it's merely a publicity exercise. Pulp have taken a different tack. Sandwiched between footage of their Christmas '95 Brixton gig are six short films, each scripted by one band member. So, we get Nick on schoolgirl underwear-dispensers in Tokyo, Steve on postman Chaval (he built a palace from pebbles!) and Jarvis comparing post gig and post coital cigarettes. Revealing, while leaving the Pulp appeal intact, it will entertain even those not in awe of all things Jarvular.
3/5