Date: Sunday, 1st September 1991
Venue: The Leadmill
Location: Sheffield
Admission: £3 / £2.50 concessions
Supported by: This Machine Kills; Kains
Part of a series of concerts promoting Sheffield bands under the banner 'Sheffield Bloody Sheffield'.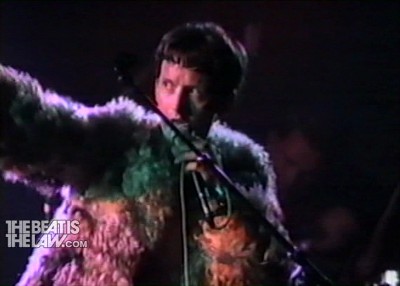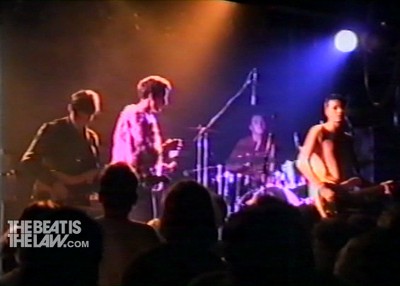 Jonny Thatcher in the NME, 21st September 1991

:
Encouraged by the modest national profile attained recently by Pulp, The Dylans and The Suncharms, Sheffield's Leadmill is promoting a series of 'showcase' gigs, in a dual attempt to fill the traditionally fallow Sunday evening slot, and act as a catalyst for what some believe to be a nascent Sheffield 'scene'.

[...]

Beneath large silver balls dangling from the rafters like a Vision On planetarium, PULP arrive to a packed house of seasoned Cocker watchers. Looking like a poodle in a stunning fake fur jacket, Jarvis performs an implausibly cool behind-the-head Stylophone solo, and it's immediately obvious that Pulp's recent surge of activity has produced startling results. No longer just a quirky band with 'potential', tonight was the moment when the years of promise were consummated.

Russell Senior's electric violin is laced with more drama and irony than a camping holiday with Nigel Kennedy and Mark E Smith. As Jarvis croons in the sublime encore, pipe-cleaner legs flicking out like an anorexic Tom Jones, "Woke up this morning. I was still alive". There's a hell of a lot of people who are very glad about that.