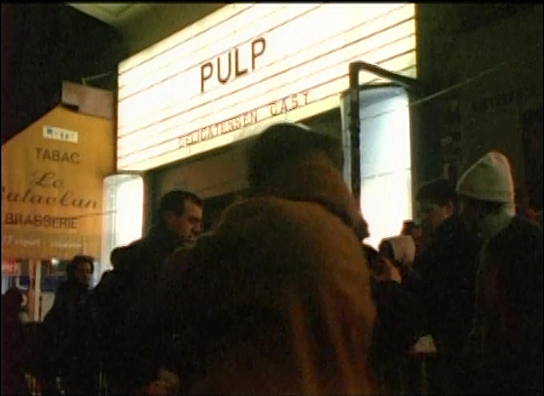 Still from the F.E.E.L.I.N.G.C.A.L.L.E.D.L.I.V.E. video.
Date: Monday, 5th December 1995
Venue: Bataclan
Location: Paris
Supported by: Cast and Delicatessen
Different Class European tour.
On the day of the concert there was a general strike in France linked to proposed cuts to the welfare system meaning little or no public transport was running.
Mark Webber, in his video diary for the F.E.E.L.I.N.G.C.A.L.L.E.D.L.I.V.E. video, describes this concert as "one of our worst of all time". An audience recording suggests Jarvis was tense from the beginning and this increases as the show goes on. Acrylic Afternoons lasted for almost 10 minutes due to Jarvis complaining about the levels coming through the monitors. At some point an amplifier was apparently twice thrown across the stage. Before the planned encore, the band returned to their dressing room, and according to Nick Banks in his biography, a physical altercation occurred between Jarvis and Russell Senior. Russell subsequently smashed his violin and left the venue and Jarvis locked himself in a toilet. This resulted in the show being abandoned, and it was left to Nick to go out and apologise to the 1,000 or so attendees, some of whom had walked miles to the venue due to the strike.
An audience recording exists.