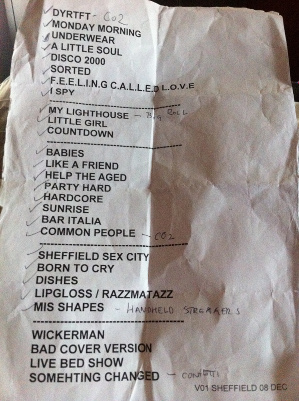 Setlist - shows that Dishes, Lipgloss, Wickerman, Bad Cover Version and Live Bed Show might have been played if it wasn't for the 11pm curfew.
Date: Saturday, 8th December 2012
Venue: Motorpoint Arena
Location: Sheffield
The day that (almost) never happened. A journey back to where it began. May the circle be unbroken – tissues optional.
There was no support band, instead excerpts from 'home movies' were shown. These included:
Catcliffe pottery/rehearsal room - including Pulp as pottery figurines (as featured on the Hits DVD).
'Love Is Blue', this was filmed in Castle Market, Sheffield and also featured a fish from the 'hole in the road' fishtank, which Jarvis showed at his interview for Saint Martins (1987).
A film shot during a trip to Robin Hood's Bay
Shakespeare Rock video, filmed on Super 8 in 1979 - the original soundtrack has been lost, so the rendition Jarvis did for the Songbook programme (Sky Arts, February 2009) was used.
More Super 8 film from 1979, including 'The Three Spartans'.
Extra musicians:
"The day that (almost) never happened" references the The Day That Never Happened concert that took place at the Leadmill in August 1988. There are several similarities between the two events: in 1988 Jarvis was moving to London to begin his film course at St Martins and it wasn't clear whether the band would continue; this time no more shows have been announced suggesting the band may go back into dormancy. In 1988, various visual effects were attempted, but without the financial resources to pull them off; some of these were repeated this time to much greater effect. For example, the former show included films, but the projector broke and they had to make do with a TV on stage; this time films were successfully projected. In 1988, the concert featured dry ice that barely spilt over the saucer and an attempt to make it snow, which ended farcically with people running around with big hair-dryer type blowers during a quiet ballad; again both effects that were done successfully this time.
Christmas cards were given out. They contain a unique code to give access to a downloadable gift, which will be available after midnight on Christmas Eve. The website address given is www.pulpxmasgift.co.uk/gift.
During Sorted For E's & Wizz Jarvis changed the lyrics to run 'I seem to have left an important part of my brain somewhere in the People's Republic Of South Yorkshire'. This is a reference to the satirical nickname given to the local government area, centered on Sheffield, that espoused highly Left Wing, even Communist, ideals in the 1980's under the leadership of David Blunkett.
Before My Lighthouse dozens of toilet rolls were thrown into the crowd and more were draped around the stage. This was a tribute to early Pulp gigs where the budget for stage decoration only stretched to a few toilet rolls from the corner shop.
After the final song, paper canons were fired over the arena. Jarvis and the audience sang White Christmas together.
The show was recorded, apparently for a future DVD release. A complete audience recording is also circulating.