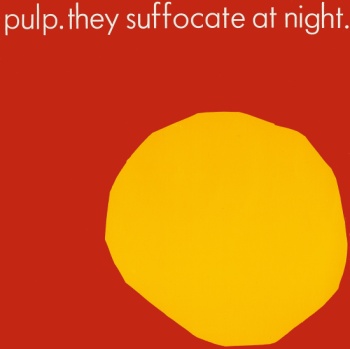 Click here to see more of the artwork
They Suffocate at Night is the first single from the album Freaks, released in 1987. The full length version of the song and its B-side Tunnel were later included on the compilation album Masters of the Universe. On the 7", the edit of They Suffocate at Night starts with the second verse as opposed the the first and fades out earlier. The cut-up version of Tunnel has a few bits cut out and fades out earlier.
Tunnel:- The True Story

I first entered the tunnel on the tenth of July 1985. It was a sunny day, just a few rolled-out wispy clouds and I was wearing my best suit. I saw the entrance and went in – simple as that. I had nothing else to do; I was bored.
That was fifteen weeks ago and guess what?- I'm lost, it's so bleeding dark in here, that's the problem. But I'm not alone - oh no, there must be hundreds, perhaps thousands, down here with me. We all mill around and bump into each other in the darkness. And the stench of a thousand unwashed bodies hangs in a thick fog. That's city dirt, Fanny.
I walk for at least eight hours every day but I've still never seen even the slightest glimmer of light that would tell me that I was nearing the end of the tunnel. Most others are content to just walk on the spot and hum to themselves, but I still make the effort. Hoping that one morning I will wake up in the sun with the sky blue above me. And to be clean again.
But I know I'll never be clean again.
Sounds, 20th/27th December 1986:
Jarvis Cocker has delusions of songwriting grandeur. 'Little Girl' was exceptional, I'll admit — I once spent a sleepless weekend wondering whether or not this bug-eyed Sheffield nobody was the Steel City's own tormented version of Elvis Presley - but Pulp ought to be beaten to one just to see how Jarvis' songwriting abilities fare through the hammering. The atmosphere on 'They Suffocate At Night' is far more rarefied than previous Pulp pressings. Still, maybe someone should get JC some oxygen, a one way ticket to Paris, and a wholesale pack of ring bind notepads... then he could become a true poet of pain.
Unknown publication:
PULP's They Suffocate At Night (Fire Records) couldn't be anything other than late '80s English. A slightly off-key voice sort of keeps its balance as it sways through a slow beat holding it in place. There's a lot worse around.