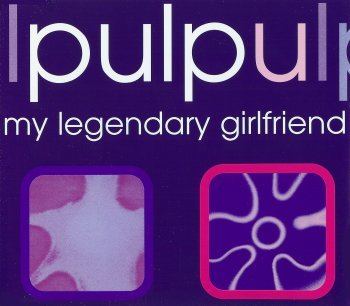 Click here to see more of the artwork
Release date: 18 March 1991
Label: Fire
Formats: 12", CD (in 1996)
My Legendary Girlfriend was the first single from the album Separations. It was released in 1991 on 12" vinyl, and later in 1996, re-released on CD. The B-sides are two house remixes of the track This House is Condemned by Sheffield DJs Parrott and Winston.
In 1992 a separate My Legendary Girlfriend single was released. This was an unofficial mail-order only release on the Caff label. (Details here.)
| Date | Formats and catalogue numbers | Notes |
| --- | --- | --- |
| 18 March 1991 | 12" vinyl - BLAZE 44T | Original UK release. |
| 17 November 1996 | CD - BLAZE 44CD | UK reissue. |
NME:
Single of the Week

Hold the front page! Stop the presses! This is what I thought working for the NME would be like. At the fag end of a very ordinary singles column, we grudgingly sling on one last disc... and it is fantastic! Do you hear me, you drop-outs! Fantastic! A throbbing ferment of night-club soul and teen opera. World Of Twist play the theme from Shaft with Cathal Coughlan on vocals. Mysterious and grand. Maybe we could have done without the rude noises, but let's not carp. Steve Lamacq tells me that this is the worst song in their set. Which means that Pulp are the greatest rock 'n' roll band in the world. I think.
Unknown publication:
Interesting. After a long spoken intro, the vocalist bears his soul in a chorus which wouldn't look out of place on a Julian Cope album. It was the last thing I expected, and after a second play I came to the conclusion that I really rather liked this. The B-Side is bloody tedious though. Fire continue to produce some of the funniest press releases around, in case you were interested. (AO)
Unknown publication:
I suspect Pulp are Yello fans. This starts like a Bernard Herrman passage for Alfred Hitchcock with a guiltily obsessive spoken intro over a maelstrom of panicky fake strings. Almost manic in a grainy monochrome Yorkshire way.