Here we go with this issues' update...
♦ First up, not only is it new, but it's Dutch and edited by the fantastically named Kiki Klinkhamer. It's called Common People but features Radiohead, Menswear, Oasis, Charlatans, Supergrass as well as Pulp. Mostly written in Dutch but has features in English as well. We enjoyed this but could not make head or tail of how to pay for it or order it for that matter... Anyway write to: Kiki & Femke, [...] Delft, The Netherlands.
♦ Another new one which looks nice but uses alot of information gleaned from Pulp People is Mis-Prints, £1.50. Issue 1 available from [...], Ammanford, Carmarthenshire, [...]. As well as Pulp it features Manfred Mann Ocean Colour Scene, Cast, Blur, Ash and Oasis. It's alright...
♦ Continuing the Euro-zine theme, we've got Razzmatazz. Written completely in Spanish, therefore useless to us. We did manage to decipher that it had articles on Hippies, Life and Love, Greetings and Faces, and not forgetting El Enigma, freak celebre. It's free from: Alex X. [...] Barcelona.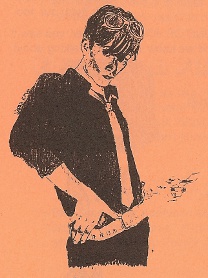 ♦ Issue 2 of Jarvzine costs £1. This 'zine devoted wholly to Jarvis is available from Laura, [...], Wallasey, Wirral, [...].
♦ The second issue of Synthetic Fluff is available from Becky & Sarah, [...] Sylmar, CA [...], USA, and displays a very worrying obsession with Mr Senior. Contributions from pulp people from around the world, and a sexy picture of Candida. Yum-ee. Lets itself down in the last few pages by a frightening double page Blur review, but I dunno, some of you might like it. For your very own copy, send £2 or $3 to the above address.
♦ Juicy is a new Pulp fanzine from the States. Nice full colour cover and interesting interview with Mark. In fact this is definitely a cut above the rest but lets itself down with lots of little mistakes and the fact that a large proportion of it is taken directly off the Pulp website... Anyway, give it a go, send $3/£2 to: Alexandrea, [...], Portland, OR [...], USA.
♦ The last ever issue of Jammy Jezzabelle arrived today, complete with free felt pen. Well, it's not really free because the 'zine costs £1, so in actual fact it's quite a pricey one; it's choc full of reviews of the last tour, tarot readings, poetry and pulp experiences. There really is a lot to get your teeth in to. Available from: Lisa [...], Feltham, Middlesex, TW14 [...].
♦ Last but not least is issue 4 of Las Lagrimas de Macondo - yep, it's Spanish, it's beautifully laid out, and we've got no idea what George, the writer, is on about. Could be saying, "Pulp are a load of old shite" and we'd never know the difference. See for yourself -send 375pts or some kind of barter plus an A4 envelope to George, [...] Madrid, Spain.