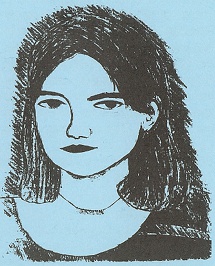 ♣ Penpal number three comes from lonely Lisa [...], who "would love to hear from anyone who loves listening to Pulp, Menswear, Cast and the Bluetones". Also she would like to hear from any fellow Jarvis fans. All letters will be answered, especially those signed by J. Cocker. She lives at [...], Nottingham, NG6 [...].
♣ Jenny [...] is gagging to write to Pulp People everywhere... ' I'm a common girl into Pulp, mods and all indie britpop music. I'm seeking Jarvis wannabies and anyone who belongs to a "Different Class". Letters to [...], Athens, Greece.
♣ Emmanouela [...] is looking for Jarvis lookalikes anywhere in the world. Also likes Blur, Supergrass, Menswe@r, Suede and the Bluetones. She's at [...], Athens, Greece.
♣ Girls and Boys wanting a Penpal should write to Vikki, [...], Warley, W. Mids, B68 [...]. She's not bothered who she writes to...
♣ Claire [...] is looking for even more penfriends, "Who won't tell me to shut up when I run on about Pulp, Sleeper, Oasis, (counts us out then) and who take a healthy interest in other members of the band. She's at [...], Norwich, NR7 [...].
♣ Richard [...] of [...], Faversham, Kent, ME13 [...]. Would just love to hear from any Pulpsters or Pulpettes who have a similar age in years to 32, but a mental age of 12. He's into (I can hardly bring myself to write this) REM, Oasis, Radiohead, Stolichnaya and Nirvana.
♣ Helen, 'would love to hear from anyone, anywhere (though preferably the London area), who loves and is obsessed with Jarvis and Russell and has any interesting photos of Pulp.' She's also into the Cardigans, Supergrass, Menswear, Gene, Lush, Blur etc. etc. but not half as much'. Write to: [...], Chichester, West Sussex.