For the uninitiated, this section is where we check out any Pulp oriented fanzines that you send us – cast our critical eye over them, if you like. regular viewers will know that our standards are very high – not that you'd know of course!
Ok, first up this time is issue 2 of Lucy Wood's Corduroy & Crimplene, available from [...] Grimsby, North East Lincs. Sadly Lucy didn't actually send me a copy, so I can't tell you any more about it, other than it features and interview with Russell.
Next up is Bri Nylon Underwear, £1+A5 sae from Jody and Janine, [...] Westhoughton, Bolton. This must have taken ages to put together, my advice is, learn how to photocopy on both sides of the paper before issue 2! It will save you a lot of time! Pulp fashion for 97, a Muppets Style guide should you need one, and comic strips called "Pulp day out in Manchester" "Pulp Jobs", a bizarre cartoon depicting what would happen if Pulp all went horribly wrong and had to find 'normal' jobs.
This next isn't actually a fanzine yet, but hopefully it will be by the next issue! Claire Boitoult is keen to start one up and wants people to send in reviews, photos, poetry, artwork on your fave bands, especially Pulp, Blur, Beck, The Divine Comedy, which Claire will presumably then compile into something fantastic. Send stuff to [...] Rochford, Essex.
The Britpop Fanclub and Monthly Newsletter is based in America, but available to all by sending $4 or equivalent to Leann, [...] Milmont Park, PA, USA, or e-mail her at [...].For your $4 you will receive "a monthly Britpop newsletter, tour dates, reviews, live concert pictures, a calender with your fave Britpop artist, stickers etc..." So, if you're into Pulp,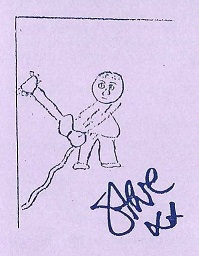 Supergrass, Elastica, Ash, Space, Blur, Stone Roses, Oasis, Radiohead, Menswear, Small Faces, Seahorses, Happy Mondays and lots more, get in touch.
Still in America, EETV, or Early Evening Television, is a very impressive A4 magazine with colour cover and great layout. Issues 1 & 2 are available, through I've only seen #1, and they include a tribute to Russell, a chronicle through Pulp's 1996 US tour, interview with Mark, plus loads of stuff on other groups, including, amazingly, Piano Magic. For your copy send £5 $7,50 if you live in The States, to EET, [...] Philadelphia, PA, USA.